EMC's ApplicationXtender & MetaSource's MetaStor is Mobile with MetaMobil™
MetaMobil Flexibility
Your EMC ApplicationXtender or MetaStor content is just a touch and a slide away!  You can use any smartphone or tablet running iOS or Android enabling users to have access to your Enterprise Content Management system on the road, all in the palm of their hands – delivering a true "any document, anytime, anywhere" mobile experience.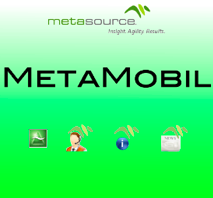 MetaMobil Availability
MetaMobil is a downloadable app from the Apple App Store and the Google Play Store that allows current ApplicationXtender and MetaStor users to gain access to stored documents via mobile devices.   The App provides quick access to MetaSource's Content Management System web site, What's New web site and Support Site. Download it for free today and try it out for yourself!  The App comes preconfigured to access to the demo site of our cloud-based version of ApplicationXtender.  Contact support or email metamobil@metasource.com to connect to your system.
MetaMobil Simplicity
MetaMobil is easily configured to access any ApplicationXtender content management repository including MetaStor and provides a rich user experience that includes the following functionality:
Simple AX Server / Data Source configuration supporting.

Ad-hoc & Saved Query support.

Search, View, Export document for free.

Supports KeyRef, AutoIndex, Move Pages.

Share documents via email mobile links.

Optional notification support to receive the latest.
MetaMobil Add-Ons
Additional functionality provided with the purchase of MetaSource Mobile Server Component:
Import Document or Page from Camera, Photos & Apps.

Versioning support Check-Out / Check-In / Undo Check-out.

Delete Document, Page and Page Version Support.

Move Document Page.